As the business booms, narrators talk tricky accents, lonely shifts and tackling 100 pages a day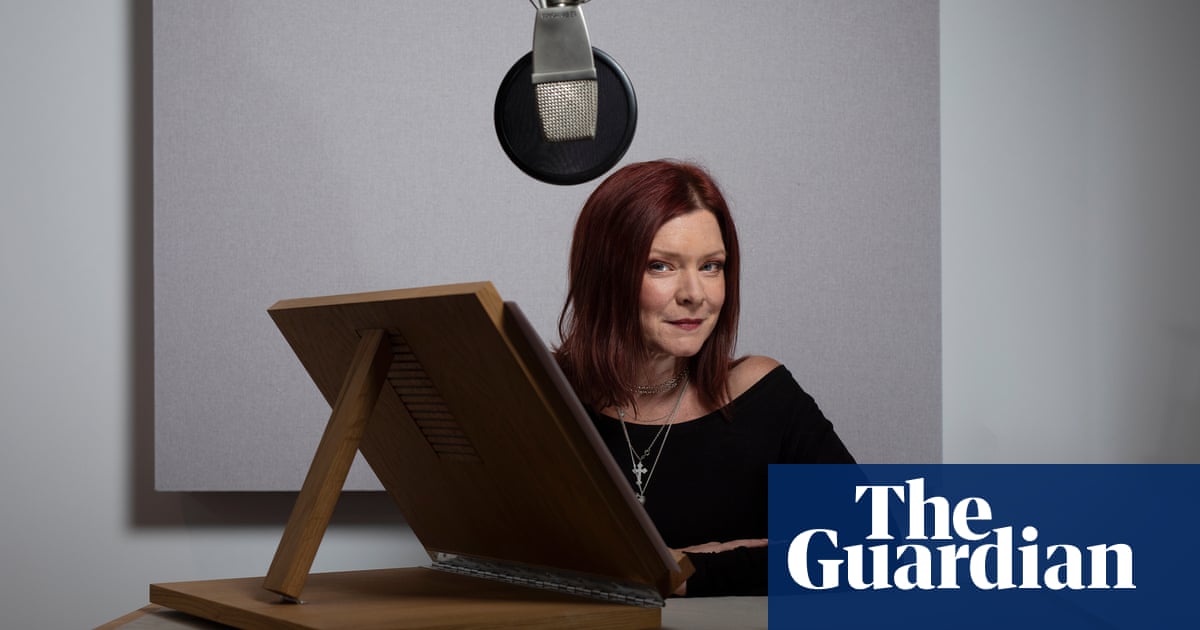 The author Bill Bryson is sitting before a lectern in Audibles London headquarters, narrating his latest book, a disquisition on human biology called The Body: A Guide For Occupants. Seen through the window of the recording booth, Brysons face is largely obscured by the microphone in front of him, but his voice is clear and measured. On the other side of the glass, Brysons producer follows the text on an iPad, adding cryptic marks to the margins with a stylus.
Bryson makes steady progress until he runs into the word glomerulonephritis, which he cant get his tongue around. He backs up to the beginning of the sentence, as if preparing to charge at a thicket, but when he reaches the word it defeats him again. Fucking hell, he says, under his breath.
Brysons audiobook experience goes back 20 years, when he was living in New Hampshire and the nearest recording studio was in the neighbouring state of Vermont. Now Ive probably worked with five or six producers, he says, and theyre all really kind, and theyre always very encouraging, but I cant help feel that I should be better at this, that I should be able to pronounce the words in my own book. Does he not realise by now that when he commits a word like glomerulonephritis to print, he will eventually have to record it? You would think so, but no, he says. You know what its like when youre writing you dont think about anything, really, except trying to get words right to yourself on the page.
In the two decades since Bryson recorded his first narration, the audiobook market has grown from a publishing industry side hustle into a huge global business. In a climate where print and ebook sales are stagnant, the UK audiobook market rose to 69m in 2018, an increase of 43% on the previous year. In the US, audiobook downloads generate revenue of close to a billion dollars annually. This growth has largely been driven by the rise of Audible, the Amazon-owned platform that dominates the digital audiobook market through its subscription streaming service, though there are other players, including Storytel, which operates largely in Scandinavian countries. In the 1990s, before the iPod was launched, Audible was selling a proprietary digital media player that held about two hours of audio downloaded from its online library. Today, Audibles catalogue contains more than 400,000 titles; in 2018, its members downloaded nearly three billion hours of content.
But while technology has transformed the industry, it still relies on an army of audiobook narrators to meet the demand. Im so impressed with professional readers, says Bryson, the Martin Jarvises of this world, or people like Stephen Fry, who can really bring extra dimensions to it.
The real professionals, however, are people you might not have heard of. In the US, 81-year-old actor George Guidall is considered narrations undisputed heavyweight champion: his baritone voice has graced more than 1,300 audiobook recordings, including works by Dostoevsky, Jonathan Franzen and Stephen King. Some of the biggest British voices in audiobooks belong to faces you might not recognise, but may well have seen on stage, on Coronation Street, or in any number of Carry On films.
***
Narration may sound like an easy way to make money you just sit there and read but I can assure you, it isnt. I narrated my own audiobook in 2014, an experience that I described at the time as being akin to an exorcism: three long days in a dark room, tripping through the minefield of my own words. All I could think was: if Id known I was going to have to say this whole book out loud, I would have written a better one. Or maybe I wouldnt have written one at all.
Ive done two more audiobooks since most recently, last spring with the gently increasing confidence that comes of never, ever listening back to previous recordings. The first time, I agreed to the challenge only because I was assured it was not unusual for a first-person, non-fiction book to be read by its inexperienced author. But I never met anyone else like that in my three days at the studio. I met only professionals.
Clare Corbett isnt sure, but she thinks shes narrated about 300 audiobooks since she left drama school to join the BBCs Radio Drama Company. That started my passion for radio, and for mic stuff, she says. Then I went into TV and theatre, and [audiobooks]just carried alongside it, beautifully. She was one of three narrators of The Girl On The Train by Paula Hawkins (the book itself features alternating narrations), which won an Audie award for best audiobook in 2016. More recently she narrated Flights, The Man Booker international prize winner by Polish author and now Nobel prize winner Olga Tokarczuk. Approaching that was very difficult, says Corbett. There was Russian and Polish language in it, and Russian, Polish and Croatian pronunciations. In the end, she contacted some other women from her local area who spoke the languages and could guide her through the pronunciations. Im meeting my community at the same time, she says.
Most professional readers are also trained actors as early as 2013, Audibles founder Donald Katz was claiming his company was probably the largest single employer of actors in the New York area but narration comes with its own peculiar constraints. Whats different is, youve got to stay still, says Corbett. When I first started, I was very animated. I was told to stop. Any movement in the booth creates extraneous noise: fabric rustling, chair creaking, foot tapping. Before the introduction of the iPad, even the turning of pages was an editing headache.