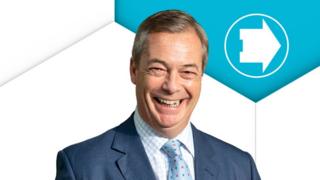 The Brexit Party has set out the policies on which it plans to fight the 2019 general election
According to its leader, Nigel Farage, the 22-page document is not a manifesto but a "contract with the people".
1. No extension to the transition period
The Brexit Party continues to talk about a "clean-break Brexit".

The Brexit Party has changed its tune on, yes, Brexit.
Until recently its leader, Nigel Farage, said a no-deal Brexit "was the only acceptable deal".
This policy moves the goalposts.
Gone is the criticism of Boris Johnson's withdrawal agreement – now the party simply promises there will be "no extended transition period".
At the moment the proposed transition period – during which the UK would follow EU rules and regulations without having any say in making them – finishes at the end of next year.
Without saying so explicitly, the Brexit Party is warning that it will campaign to ensure Mr Johnson sticks to his promise not to extend the transition.
That gives very little time to agree the terms of a future free trade deal.
The Brexit Party continues to talk about a "clean-break Brexit".
But whoever wins this election, the UK is likely to be negotiating with the EU about the nature of its future relationship for years to come.
This policy would apply to the whole of the UK.
2. No privatisation of the NHS
The NHS must remain a publically-owned, comprehensive service that is free at the point of use.

Comments by Nigel Farage about encouraging the use of private health insurance to help take the pressure off the NHS led to speculation about what this might mean for the service.
The manifesto states though that the NHS must remain a publicly-owned, comprehensive service, free at the point of use and with privatisation ruled out.
There is no mention of a role for insurers or any long-term aspiration to encourage the better off to save for private healthcare.
Interesting policies include 24-hour opening for GP surgeries and broadening training for nurses and midwives without the need for a degree.
But there are no costings to underpin those specific measures.
Health is devolved so this policy would only apply to England.
3. Reduce annual immigration
Net migration will be cut to 50,000 a year

Nigel Farage has written about cutting net migration – immigration minus emigration – to 50,000 per year.
But it is not among the policies the Brexit Party has published.
The document simply promises to "reduce annual immigration", which is not the same thing and won't necessarily lead to lower net migration.
Nevertheless, the direction of travel is clear – even if the precise destination is not.
A "clean break" from the EU, a "fair points system" and a "crackdown" on illegal immigration are the vehicles which the Brexit Party will use to achieve its goals.
But details are lacking. And there's no acknowledgement that to do this while addressing the UK's skills gap and welcoming "genuine" refugees – which are also manifesto pledges – is a major challenge.
This policy would apply to the whole of the UK.
4. Tax and spending
Package of tax cuts including elimination of VAT on domestic fuel, and a reduction in Corporation Tax.

Detail is quite vague on tax and spend, and not many pledges are costed. There is little detail about the type of trade vision to be pursued after a "clean-break Brexit".
There is no mention of income tax or VAT. No number put on the amount of money put into NHS and social care, nor investments in strategic industries than can "create thousands of jobs".
The post-Brexit elimination of VAT on domestic fuel (currently charged at 5%) is estimated to benefit households by £65 each or £1.7bn a year.
These numbers, previously used by Vote Leave, are about right. The £200bn the party says it will raise over the five-year Parliament appears to include the entire lifetime cost of HS2.
Other notable tax cuts are for small business Corporation Tax, creating a £10,000 tax-free allowance, and abolishing inheritance tax. The Party also promises to fund "transition" for the car industry.
VAT policy and corporation tax are set UK-wide by Westminster.
5. Ban the UK exporting its waste
Recycle our own waste and make it illegal for it to be exported across the world to be burnt, buried or dumped at sea.

This is not the first time this idea has surfaced.
After the National Audit Office reported that some exported waste was not being processed as it was meant to be, a cross-party group of MPs called for an end to the shipments.
Every year nearly two million tonnes of British paper, cardboard and plastic are bought by recycling companies in countries like Malaysia, India and Turkey.
International law already prohibits industrialised nations like the UK from exporting waste unfit to be processed.
Banning the exports totally would force the British waste industry to build many new treatment plants, with repercussions for local authorities and maybe householders too.
Export policy is managed at a UK level; inspections of waste shipments are handled by the devolved administrations.
6. Provide free broadband in deprived regions
There should also be free wi-fi on public transport

Access to the internet is increasingly seen as essential.
The Brexit Party's pledge to provide "base level domestic broadband" in deprived regions does not specify exactly what sort of service will be offered.
However, the telecoms regulator Ofcom considers speeds of 10 megabits per second (Mbps) to be "the speed which enables full participation in a digital society".
In its latest report, it said about 16% of broadband lines across the UK could not reach those speeds. In rural areas, 32% of lines fell below this threshold.
The Brexit Party's "base level" promise for "deprived regions" will reduce bills for homes which may be struggling to afford a fast broadband connection.
But both the Conservatives and Labour have gone further, pledging billions to roll out super-fast full-fibre broadband to more homes.
It has also pledged to offer free wi-fi on public transport. Some train and bus companies already provide this, and while the service can be patchy on moving vehicles, it will be welcomed by those with data-capped mobile phone tariffs.
This policy would apply to the whole of the UK.
7. Scrap the BBC's TV licence
Could a Netflix-like subscription fund the BBC?

The question that immediately arises is, what do you replace it with?
Advertising is one solution, but that would have a huge impact on other commercial broadcasters competing for ad spending.
Direct government funding would still be a compulsory charge and could be seen to undermine the BBC's political independence.
Another alternative is a Netflix-like subscription. But the challenge is how to introduce a paywall and stop people watching and listening to the BBC's many TV and radio channels.
Turning the BBC into a subscription service would also fundamentally change what the BBC provides. Large parts of the BBC would disappear.
However, TV licence fees are being phased out where they exist elsewhere in Europe – Norway and Denmark are replacing their licence fees with systems funded by taxation.
But Switzerland voted to keep theirs – in a referendum.
This policy would apply to the whole of the UK.


8. Abolish inheritance tax
The tax raises less than 1% of total tax revenue, the Brexit Party says.

Inheritance tax is always a political battleground, and the Brexit Party is making a clear pledge to abolish it – aiming for the support of those who worry about its complexity and whether they have to pay.
The tax is a 40% levy on the estate – the property, money and possessions – of someone who has died, above a threshold of £325,000. No tax is paid if the estate is valued at less than £325,000, or if more than that is left to a husband or wife, civil partner, charity, or a community amateur sports club. There is also some relief when passing on the family home.
But few people do actually pay. It was charged following 28,100 deaths in 2016-17 (4.6% of those in the UK) although the number has been rising.
Abolishing it would cut off the government's receipt of £5.4bn a year at the last count.
This policy would apply to the whole of the UK.
9. Scrap the HS2 rail link
And invest £50bn in regional road and rail project

The Brexit Party's flagship transport policy is scrapping the HS2 high-speed rail link. That's a goal it shares with the Green Party.
Nigel Farage's party says the money saved will help raise £200bn for regional regeneration and supporting key sectors of the economy. It calls this a "Brexit Dividend".
It also pledges to invest £50bn in regional road and rail projects in development-starved regions, but does not say how many years this investment will be spread over. It is a significant sum, but falls short of what other parties are offering.
There is no mention of aviation or airports in the document. We don't know where the Brexit Party stands on the expansion of Heathrow, or the development of regional airports, for example.
Nor, at a time when cities such as Bristol are contemplating restrictions on car use, is there anything on air pollution.
Local roads are devolved, but national roads such as motorways are dealt with by Westminster. Similarly, rail services that start and end in Scotland are the responsibility of the Scottish executive.
10. Abolish interest on student loans
The amount of debt recovered from graduates would be improved by scrapping interest on student loans.

The interest rates on student tuition loans have long added to the sense of injustice graduates have about their debt.
Few realise until their first statement arrives the April after graduation just how much they were charged while studying for their degree.
For this year's students that means 5.4%, far above the cost of government borrowing. Getting rid of the additional interest above RPI would reduce the loan balance on graduation by £3,000, according to Institute for Fiscal Studies analysis two years ago. After graduation, the interest rate currently varies according to your income.
The Brexit Party wants universities to incorporate an obligation to protect legal free speech, but they already have a legal requirement to protect freedom of expression.
It would also abandon any push to get 50% of young people into higher education.
Student finance is devolved so this would apply to England only.
11. Build more homes
Make it easier to build on brownfield sites

Political parties of all colours have come a cropper on housebuilding targets. They are almost never met. So the Brexit Party has avoided them.
Instead of putting a number on how many new homes it wants built, it has some relatively broad pledges to "accelerate the pace of development".
They include simplifying the planning system, particularly on previously developed "brownfield" sites, and giving more flexibility to builders.
None of these ideas is particularly new, but they have been notoriously difficult to fulfil.
It may be telling of the party's priorities that this issue is left to last on its "contract with the people".
Housing is devolved so this policy would only apply to England, although Scotland, Wales and Northern Ireland would also benefit from any extra funding.
12. Subject judges to political scrutiny
The plans would mean a move towards a US-style system.

The Brexit Party's plans would mean a move towards a US-style system where senior judges are subject to confirmation hearings, where their views are scrutinised by elected politicians.
There has always been a great reluctance to introduce such a system in the UK. However, since the early 1980s, there has been a significant rise in something known as judicial review.
This enables an individual or group to ask a court to determine whether a decision taken by a public body, including ministers, is lawful or not. There is now almost no area of government decision-making that cannot be subject to scrutiny by judges.
Many regard judicial review as a critical democratic check on the abuse of government power and a way of ensuring that no-one, including ministers, is above the law.
However, some feel that judges – unelected and unaccountable – are now too involved in political decision-making. And that if that is to be the case, more should be known about their political views.
What do the other parties offer?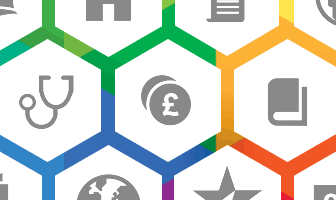 What are the parties promising you?
Here's a concise guide to where the parties stand on key issues like Brexit, education and the NHS.