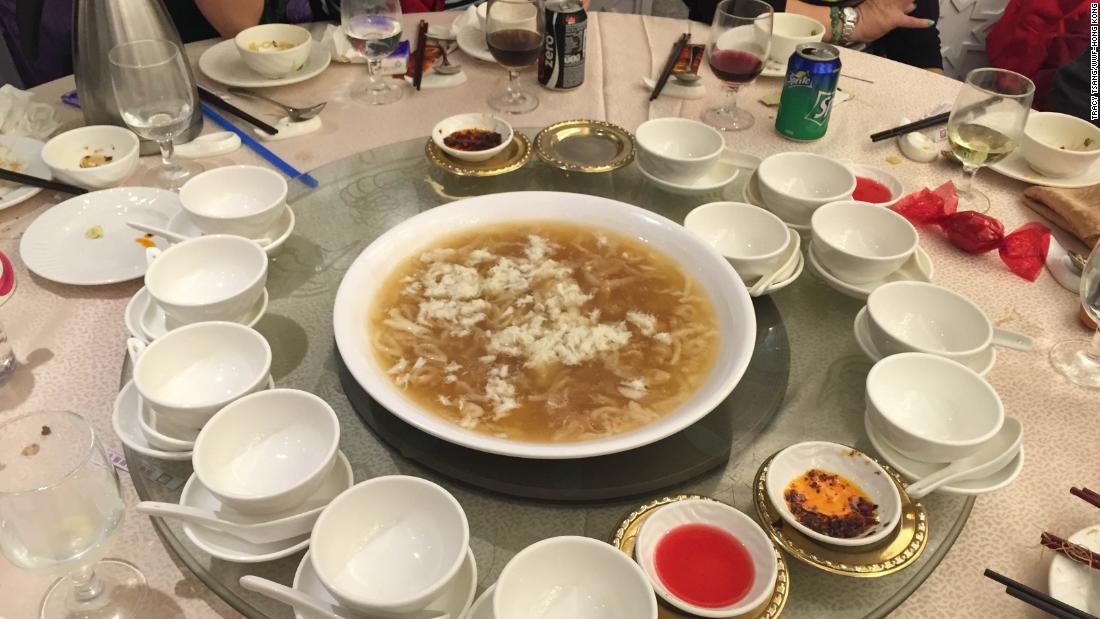 Hong Kong (CNN)Adeline Chan's nose crinkled at the market's pungent, briny smell.
"We don't need shark fins for ourselves, but sharks need their fins," said Chan, now a vegan. "I stopped consuming shark fin soup four years ago after learning what sharks had to go through before a bowl of shark fin soup is served."
But fins continue to be popular at these stores, along with other delicacies such as sea cucumbers, scallops and abalone.
"Shark's fin is one of the 'four treasures' of Chinese dried seafood, along with fish maw, dried abalone and sea cucumber," said Daisann McLane, director of the gourmet food tour company Little Adventures in Hong Kong. "All four are expensive products that are valued for their rarity and also for their texture."
The bigger the fin and the thicker the veining, the more expensive it is, store clerks at Hong Kong's Dried Seafood Market said.
On the lower end, a shark fin set lunch can cost $80 Hong Kong dollars to 90 Hong Kong dollars ($11 to $12) at Chinese restaurants, while some upscale places charge up to $1,200 Hong Kong dollars ( $160) for a bowl of shark fin soup, Tsang said.
Nearly 60% of the world's shark species are threatened, the highest proportion among all vertebrate groups, and the populations of some species, such as hammerhead and oceanic whitetip, have declined by more than 90% in recent years due to the shark fin soup trade, according to the study.
"Sharks are in crisis,"said Andy Cornish, leader of WWF's Global Shark and Ray Initiative. "The demand for shark fin in East and Southeast Asia and for shark meat in other parts of the world are the major drivers for the overfishing of sharks. This is, by far, the biggest cause of the shark population decline. Currently, 100% of shark fin sold in Hong Kong is from unsustainable and/or untraceable sources."
But continued interest is putting the environment — and humans — at risk.
"It cannot move, feed or swim, so it just starves to death on the sea bottom. Maybe it is like cutting the wings off a flying plane: The plane will be destroyed," she said.
Sharks need their fins for steering, balancing and, for some, breathing.
"There are sharks that must continue swimming to be able to breathe, as they rely on the forward motion to keep water passing through their gill slits and get oxygen," said Stan Shea, marine program director for the Bloom Association Hong Kong, a nonprofit that works to preserve the marine environment.
When their fins are cut off, "they are likely to die of suffocation, as they are no longer able to breathe by swimming forwards. (For others), they are unlikely to suffocate but die either by starvation or watching as other animals 'consume' them alive."
In addition, as apredator at the top of the food chain, sharksa are critical to maintaining balance in the ecosystem, Shea said. Its loss could cause "behavioral change" and "chaos."
"Most sharks are important predators and therefore can play key roles in keeping ecosystems functioning. Depletion of sharks is expected to have negative effects on populations of prey species, many of which may be also be sharks, or rays," said Nick Dulvy, co-chairman of the International Union for the Conservation of Nature's Shark Specialist Group.
Eating shark meat could be harmful to humans, too.
"The main food safety concern for shark fin/meat and other large predatory fish is the accumulation of mercury, especially methylmercury," the center said in a statement.
"Methylmercury is the most toxic form of mercury affecting the nervous system, particularly the developing brain. At high levels, mercury can affect fetal brain development, and affect vision, hearing, muscle coordination and memory in adults."
"If something damages your brain, why … would you eat it?" asked Deborah Mash, professor of neurology at the University of Miami. "There's also no good evidence for health benefits."
Analyzing 55 sharks across 10 species from the Atlantic and Pacific oceans, her team found that the majority contained the cyanobacterial toxin β-N-methylamino-l-alanine, together with another environmental toxin — methylmercury — which is known to accumulate in sharks.
Traditional Chinese medicine may also have no need for shark fins.
"To my knowledge, shark fin is never a part of Chinese medicine practice," said Professor Lixing Lao, director of the School of Chinese Medicine at the University of Hong Kong. "Chinese medicine community is nowadays very much aware of protection of endangered species to be used in the Chinese medicine practice."
Besides, "shark fins have no taste on their own. It barely offers a crunchy texture when you bite into it," said executive chef Chan Yan Tak, the first Chinese chef to get three Michelin stars, at the Four Seasons in Hong Kong, which stopped serving shark fin in 2011. "The flavor comes from the soup: a superior stock that is boiled for eight hours with Yunnan ham, chicken and pork ribs."
Increasingly, public attitudes toward shark fin are turning.
According to parallel studies in 2009 and 2014, consumption of shark fin in the last year surveyed in Hong Kong went down from more than 70% to less than 45%.
"It was a big challenge initially, getting customers to accept our shark fin policy," said Andy Chan, senior director of food and beverage for Shangri-La Hotels & Restaurants, which took shark fin off its menus in 2010. "We accepted that it would mean a substantial cut for our banqueting business. We initiated the policy because it was the right thing to do. We recognized that as a species, sharks are threatened with extinction, and if this happens, it would put the health of our oceans and fisheries at risk."
Joining Shangri-La in pledging to stop the sale of shark fin are Cathay Pacific, Four Seasons and, most recently, the popular Hong Kong restaurant chain Maxim's, by 2020. The Four Seasons and some others offer a vegan version of the soup.
"As more hotels and restaurants join together in this pledge, we send a strong signal to our community and can together help to reshape dining concepts around sustainability," Tak said.
WWF and WildAid are working to persuade more companies to make the pledge against shark fin. Recently, WildAid campaigner Alex Hofford talked to the Fulum Group, one of the largest Hong Kong chains with more than 80 restaurants, about reviewing its policies.
Citing the nonprofit's motto, Hofford said, "when the buying stops, the killing can, too."