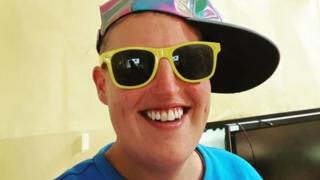 Actor Michael Sleggs, star of BBC Three comedy This Country, has died aged 33. How will he be remembered?
Michael Sleggs was a well-known character around his hometown of Cirencester, and it was a character that was soon shared with a much wider audience thanks to This Country.
The soft and inoffensive persona of Michael "Slugs" Slugette was written specifically for Sleggs by the show's creators, his friends Charlie and Daisy May Cooper.
"They captured him really well," says Joe Harris, the leader of Cotswold District Council and a friend of Sleggs, "although he spoke a lot more in real life."
"It was him and yet it wasn't," agrees Camilla-Alicia Bates, a lifelong friend of Sleggs.
"In real life he was very witty," she said. "It was great when they put him in the show, so well-deserved.
"But even before This Country, everyone in Cirencester knew him just from the way he used to walk around, always smiling and being happy."
Mr Harris, who became friends with Sleggs after the pair volunteered at a youth club, said the 33-year-old was "the most unassuming person" with a "fantastic sense of humour".
His jokes included regularly mocking up movie posters, replacing key characters with his friends, and creating amusing pictures with his "legendary" Photoshop talents.
The fame he found through This Country never changed Sleggs, Mr Harris said.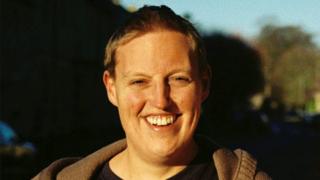 "We have taken a lot of pride in [This Country]", he said of the show, which is based in a Cotswold village and filmed in Northleach, about 10 miles from Cirencester.
"Charlie, Daisy May and Michael are from Cirencester and they are still just normal people; you see them around."
Ms Bates, a musical actor who recently completed a tour of Germany in the Mamma Mia! musical, said: "He was always kind and caring, that never changed, so when he had people wanting to take selfies and things he was always happy to do it.
"He liked talking to people."
Sleggs, a regular churchgoer from childhood, "dealt with an awful lot in his life", Mr Harris said, specifically illness – including cancer when he was a teenager.
He also suffered strokes, heart issues and occasional mobility problems, Ms Bates said, but he never complained.
"He was never self-pitying or like 'poor me', and he went through so much," she said.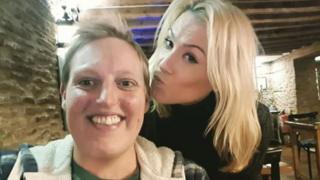 In June, Sleggs posted a riposte online to "the clowns of the media" reports that the cancer was back, instead making it clear he was receiving palliative care because "my heart failure was getting out of control".
At one point he was not sure he would see the following week, but "miraculously I made some sort of great turnaround", he said.
"I don't know how long this turnaround will last but I'll try and keep alive as long as I can."
He spent his final weeks at home, seeing friends and family, Ms Bates said.
She was with him when he died on Tuesday, and said: "He was ready to go. He was in a lot of pain; it's good that pain is over."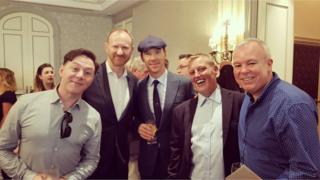 Fame came to him late in life, This Country being launched on BBC Three in February 2017.
He had worked a number of jobs around Cirencester by that point, including as a groundskeeper in the town's park and four years at video rental chain Blockbuster.
"He always said he wanted to be a Hollywood A-lister," laughs Ms Bates.
"He was a clown; very clever, very witty."
In October, Sleggs announced he had signed a book deal for a "comedy biography" about his primary school years "and the different people I met there".
Austin Macauley Publishers said the project was still in production, with Sleggs's family to be consulted over future plans for it.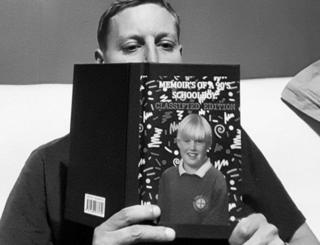 They said Sleggs' book was an "entertaining and irreverent memoir" showing his "talent for relating anecdotes in a witty manner".
Sleggs remained a popular character in Cirencester, with Mr Harris saying he would often run into him in pubs and clubs.
"To get where he got was absolutely fantastic," Mr Harris said.
"The fact he did it with a smile on his face just says everything about the man."
Ms Bates said her friend deserves to be well-remembered.
"I want people to remember him for the kind, funny, giving person he was," she said.
"He was a great guy."