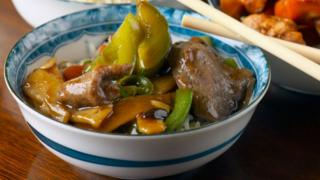 Chinese takeaway meals from restaurants and supermarkets should carry health warnings because they are often high in salt, a campaign group says.
Action on Salt analysed more than 150 bowls and discovered some contained half an adult's recommended 6g( 0.2 oz) daily allowance of salt.
Main courses, such as beef in black bean sauce, topped the salty listing.
But adding a serving of egg fried rice to your order could deliver anything between an additional 5.3 g and 2.3 g of salt.
While adding side dishes and dipping sauces to your meal could render nearly another 4g salt per person, the findings disclose.
Login