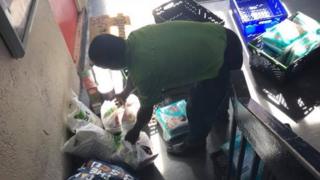 A pregnant mother had to carry more than £200 of shopping up two flights of stairs after her Asda delivery driver refused to help, she claims.
Amy Natasha Botten, 20, who is 20 weeks pregnant with her second child, shared a video online of the food delivery.
Ms Botten can be heard pleading with the driver for help as "her son was crying upstairs alone" at the flat in Feltham, west London.
Asda said it "got it wrong on this occasion and that it was truly sorry".
In terms and conditions of delivery on its website, the firm says that unless there are particular circumstances their drivers should offer to take the shopping "into your home".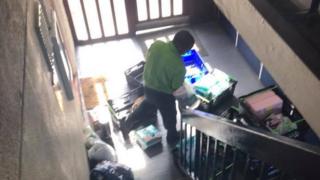 Posting on Facebook, Ms Botten said: "This shouldn't be happening to anyone, putting aside bad health, lonely and elderly, disabled, pregnant.
"It should not be happening. It's called home delivery.
"I just had to carry £200 monthly shop up two flights of stairs alone, pregnant with pelvic problems. No choice but to leave my son on his own crying."
In the video clip, she asks the driver: "Can you not help me with this last little bit because my little boy is up there crying his eyes out?"
He responds: "I'd rather not."

You may also like:

She then says: "You'd rather not? But this is your job."
As an apology, the Feltham Asda store gave a bottle of champagne and flowers to Ms Botten.
"We always try to offer our customers great service but clearly we got it wrong on this occasion and we are truly sorry", an Asda spokesperson said.
"This goes against our home shopping policies and we have offered our full apology to Ms Botten and are in contact with her to try and make amends."